Project forTAMSCHICK MEDIA+SPACE GmbH, Berlin
BADISCHES LANDESMUSEUM KARLSRUHE | 2016

In celebration of the city of Karlsruhe's 300th anniversary, its castles's tower is filled with a whole new life. An immersive audio-visual production transforms the octagonal tower room of today's Badisches Landesmuseum into a large media theatre
Margrave Karl III. Wilhelm von Baden-Durlach himself has returned to the centre of his city and castle and tells the story of how Karlsruhe was originally established and built. Virtual windows open up on the architecture of the actual tower windows, which have been darkened for the projections. The visitors witness the events through these windows like a voyeur. They see  scenery after scenery spreading out before them and seemingly dissolving the boundaries of the physical space.
An old tapestry transforms the space into a mystical forest; baroque floral images form a wavy oversized ocean of tulips, inviting visitors to indulge themselves in the tableau vivante. The abundant imagery is based on historic engravings and paintings and creates a strong visual impact, enhanced by various animations.
Visitors are immersed in the baroque era with all their senses, while they witness thoughts and secret conversations of the city's founding father.
The story, which is based on actual historical events and protagonists, combines the founding story with the margrave's great passions: the art of landscape design, music and alchemy. The imaginatively enhanced and artistically interpreted stories make the margrave's life and his ambitious visions accessible to visitors in a poetic way.
High profile actors were hired for the 20 minute long time travel: The role of Karl Wilhelm is interpreted by multiple Grimme Award winner Ben Becker.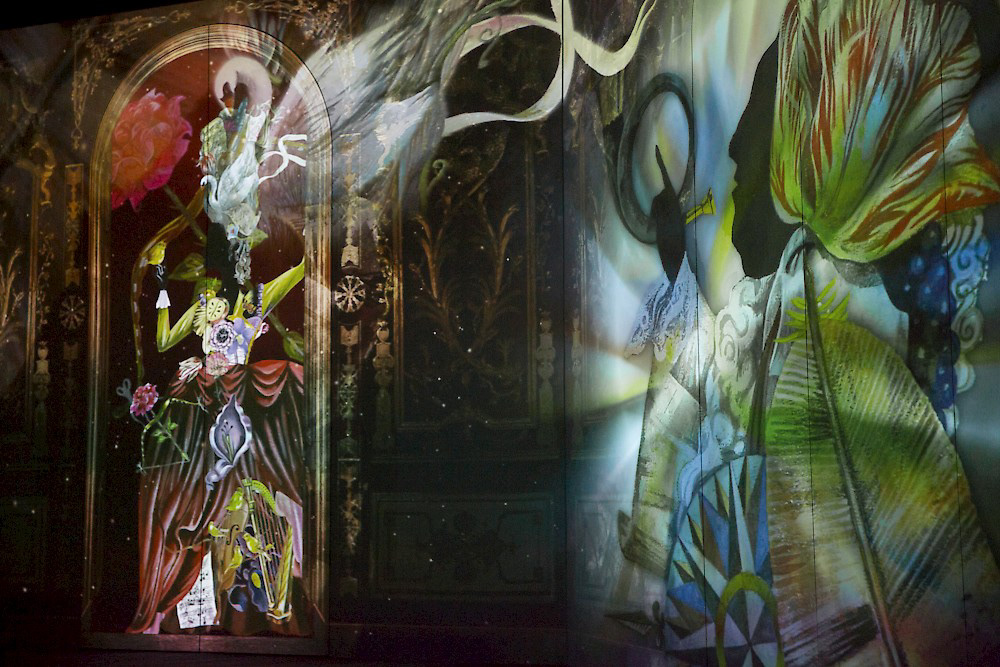 CREDITS
A production of the Badischen Landesmuseums Karlsruhe, executed by TAMSCHICK MEDIA+SPACE GmbH
CLIENT
Badischen Landesmuseums Karlsruhe

HARDWARE-PLANNING
medienprojekt p2 GmbH

TECHNICAL IMPLEMENTATION
inSynergie GmbH

TASKS TMS
creative direction, concept, design, script, storyboard, shooting, editing, motion design, animation, interactive programming, implementation, project management, audio production

Concept and production:
TAMSCHICK MEDIA+SPACE GmbH

Script and audio production
TAMSCHICK MEDIA+SPACE GmbH in collaboration with Schiller Wendt GbR

Creative Direction / Head of Concept
Charlotte Tamschick

Art Direction / Design
Natalie van Sasse van Ysselt

Concept
Charlotte Tamschick, Anna Salhofer

2D / 3D Artist
Marc Osswald, Mattis Gutsche, Markus Gonser

Project management TAMSCHICK MEDIA+SPACE GmbH
Uwe Schlottmann (Jan Hübel)

Music and sounddesign
BLUWI

Illustrations
margrave, court singer, gardener Thran und alchemist Welling
Olaf Hayek

Idea
Badisches Landesmuseum Karlsruhe

Project management Badisches Landesmuseum Karlsruhe and curator
Dr. Jutta Dresch

Technical Direction Badisches Landesmuseum Karlsruhe
Dipl. Ing. Joachim Henrich

Director of Badisches Landesmuseum Karlsruhe
Prof. Dr. Eckart Köhne

Head of finance Badisches Landesmuseum Karlsruhe
Susanne Schulenburg

Narrators:
Karl Wilhelm: Ben Becker
Court singer Dorothea Adam: Alexandra Doerck
Alchemist Welling: Hanns Krumpholz
Gardener Thran: Ingo Abel