Project for TAMSCHICK MEDIA+SPACE GmbH, Berlin
TERRA SANCTA MUSEUM, JERUSALEM | 2016

Nestled in the centre of the Old City of Jerusalem, the Monastery of Flagellation attracts thousands of pilgrims each year, drawing them to the authentic site of the second station of the Cross. Before continuing on the Via Dolorosa, pilgrims can experience Jerusalem's 3000 year old history in this 15 minute multimedia scenography.
The first part of the installation combines atmospheric music, narration and moving lights to highlight a selection of
 archeological fragments, supporting the importance of this historical and spiritual site, where Jesus is believed to be condemned to death. The stone fragments are staged in an emotional context, shining light on the city of Jerusalem's destruction and rebuilding over the centuries.
A custom made topographical city model serves as a projection surface for part 2 of the scenography.
As a free-floating sculpture within the space, the lightness and delicate quality of the model is a modern contrast
to the ancient stone architecture of the old monastery. 3D topographical data was carefully treated in a 3D program to be able to produce a mold for the model. At 3x2 meters large and only 3 mm thick, this is one of the largest custom made topographical models produced in one piece in this size.
The model is mapped with a film giving visitors insight into Jerusalem's urban and cultural development during 3000 years. Many historical maps were redrawn for this film as well as ancient buildings meticulously rebuilt and animated in 3D. 

Historical documents and images are paired with contemporary animation, supported by a composed soundtrack
mixing fragments of historical instruments and music with dynamic sound design.
In part 3, upon exiting the installation, life sized light figures are projected onto the ancient walls of the monastery,
whispering to the visitors and guiding them out of the space to their further spiritual journey.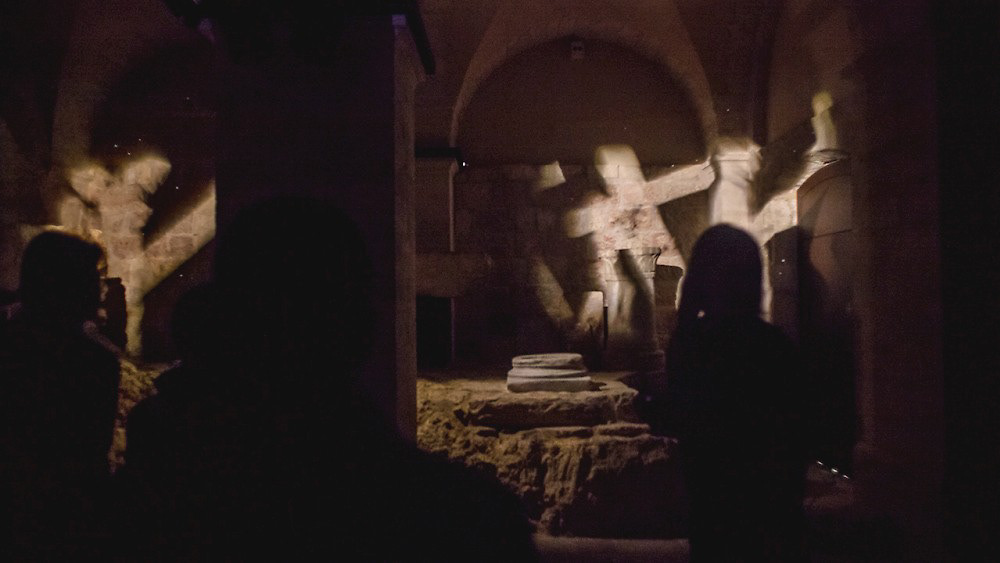 CREDITS
CLIENT
ATS pro Terra Sancta, Jerusalem
In support of the Holy Places and the Christian communities of the Holy Land

HARDWARE PLANNING / TECHNICAL IMPLEMENTATION
AV MAGIC Tel Aviv/Israel
DANOR Theatre and Studio Systems Tel Aviv/Israel

TASKS TMS
Scenography, creative direction, concept, design, script, storyboard, interface-design, editing, motion design, animation,
lighting design, musical composition, sound design, audio production, technical planning and execution, implementation, project management

Concept and production
Tamschick Media + Space GmbH

Creative Direction / Head of Concept
Charlotte Tamschick

Art Direction / Design
Natalie van Sasse van Ysselt

Concept
Charlotte Tamschick
Natalie van Sasse van Ysselt
Anna Salhofer

2D / 3D Artist
Natalie van Sasse van Ysselt
Mattis Gutsche
Markus Gonser
Jonathan Margies
Matthias Wolf

Music and Sound design
Not A Machine, Stefan Will / Nikolaus Grunert

Lighting design
Uri Morag, Israel, Lighting Design

Media Control, Hardware and Programming
AV MAGIC Israel, Guy Charny

Lighting and Light Control 
DANOR Theatre and Studio Systems Israel, Erez Hadar / Shimshon Yehuda

Architecture
Giovanni Tortelli, Italy, Architecture 
together with Tamschick Media + Space GmbH

Content Development
Charlotte Tamschick
Gabriele Allevi (Italy), Content Research and Development 
Father Eugenio Aliatta, Content Research and Development 

Project Management
Manuela Perogaro / Sarah Zabel, Project Management  Association Pro Terra Sankta
Ettore Soranzo, Engineer ATS
Uwe Schlottmann, Tamschick Media + Space GmbH